Posts for: April, 2014
By Inland Oral Surgery
April 21, 2014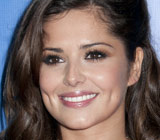 What if you had orthodontic treatments to enhance your smile — and nobody knew about it until it was all done?
That (almost) happened to British singer, cover girl and television personality Cheryl Cole. Since her big break in 2002, on the British reality show Popstars: The Rivals, Cole has had a successful music career, taken turns judging both the British and American versions of The X Factor, and graced the covers of fashion magazines like Elle and Harpers Bazaar.
And somewhere along the way, Cole wore an orthodontic appliance. It very nearly went undetected… until a colleague spilled the beans. That's when Cole was forced to divulge her secret: For a period of time, she had been wearing clear aligners on her teeth. Until her frenemy's revelation, only a few people knew — but when you compare the before-and-after pictures, the difference in her smile is clear.
So what exactly are clear aligners? Essentially, they consist of a series of thin plastic trays that are worn over the teeth for 22 hours each day. The trays are custom-made from a computerized model of an individual's mouth. Each tray is designed to move the teeth a small amount, and each is worn for two weeks before moving on to the next in the series. When the whole series is complete, the teeth will have shifted into their new (and better aligned) positions.
Besides being virtually unnoticeable, aligners are easy to remove. This makes it easy to keep the teeth clean — and can come in handy for important occasions (like cover-photo shoots and acceptance speeches). But don't remove them too frequently, or they won't work as planned. If that's a possibility (with teens, for example), aligners are available with "compliance indicators" to ensure they're being worn as often as they should be. They can also be made with special tabs to hold a place for teeth that haven't fully erupted (come in) yet — another feature that's handy for teens.
So if you need orthodontic work but prefer to stay "under the radar," ask us whether clear aligners could be right for you. Cheryl Cole did… and the results gave her something more to smile about.
If you would like more information on clear aligners, please contact us or schedule an appointment for a consultation. You can learn more about this topic in the Dear Doctor magazine articles "Clear Orthodontic Aligners" and "Clear Aligners for Teenagers."
By Inland Oral Surgery
April 11, 2014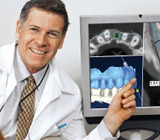 There's no question that x-ray imaging has transformed how we diagnose and treat dental problems. But traditional x-rays have at least one limitation — they are two-dimensional portraits that can only provide a portion of the information available. If you could view the interior of teeth or other mouth structures in three dimensions, you would have access to more detail about their conditions.
Computerized axial tomography (CAT) scanning has brought that third dimensional view to physicians generally and, in more recent years, to dentists. The latest development in this technology is known as Cone Beam Computed Tomography (CBCT). A CBCT emits a spiral of x-rays that form a cone-shaped beam that is caught on detectors. Using digital geometry, the CBCT then generates a three-dimensional image by precisely "layering" this large series of two-dimensional images caught by the detectors on top of each other.
CBCT is already making a significant impact in dentistry and its related specialties. Dentists now can visualize with amazingly precise detail the three-dimensional anatomy of the teeth, jaws, facial bone and other structures in the head and neck area. Orthodontists can examine the growth stages of a patient's teeth eruption to better prepare treatment strategies. Oral surgeons can determine the precise location of impacted teeth and their exact proximity to nerves and sinuses. And, periodontists who specialize in gum disease and treatment can better determine the level of bone loss and gum attachment for more accurate diagnoses and effective treatment.
While a CBCT delivers a higher dose of x-rays than a traditional panoramic radiograph, it actually delivers a lower dosage than a digital standard 18 film full mouth series or than conventional medical CT scanners. The field of view also determines the level of x-ray exposure — the smaller the field of view (and more concentrated the x-rays) the higher the dosage and the better detail of anatomy.
The good news, though, is that a low dosage CBCT scan can still provide a level of detail that can provide dentists with a very accurate view of anatomical features, including bone density and mass, in three dimensions. That capability can vastly elevate the accuracy of diagnoses and lay the groundwork for effective dental treatment.
If you would like more information on the uses of CBCT scanning to help you maintain dental health, please contact us or schedule an appointment for a consultation. You can also learn more about this topic by reading the Dear Doctor magazine article "CAT Scans in Dentistry."