Posts for: April, 2015
By Inland Oral Surgery
April 24, 2015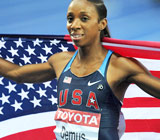 Lashinda Demus holds the U.S record in the 400 meter hurdles, with a time of 52.47 seconds, the third fastest ever recorded. While her twin 5-year-old boys cheered her on, she brought home a silver medal from the 2012 London Olympics. But when it comes to her full set of upper and lower braces, there's no silver to be seen!
Demus is a top-ranked competitor, a wife and a mom — and an adult who is currently in orthodontic treatment. With her orthodontist's approval, she chose clear ceramic braces. These are just one of the treatment options available to adult patients, many of whom prefer a less noticeable style of orthodontic appliance.
As many as three-quarters of adults are thought to have some form of orthodontic problem. Common issues include teeth that are crowded too closely together, or ones that have drifted too far apart after an extraction or other tooth loss. It is believed that straightened teeth are easier to clean and better for chewing — they can also improve an adult's social life, and even his or her career prospects!
Some grown-ups may hesitate to consider orthodontic treatment because they remember the "railroad tracks" they saw in junior high school. In fact, there have been many changes in orthodontic appliances in the past few years. Two popular choices for adults are colorless braces (the kind Demus wears) and clear orthodontic aligners.
Colorless ceramic braces are made of high-tech composite materials. They resist staining, and are less noticeable because their translucent appearance blends with the teeth. Often, a single wire is the only part that's plainly visible. Sometimes it's even possible to place them on the lingual (tongue) side of the teeth.
Clear aligners are an alternative to braces that are available to adults and teens. Instead of wires and attachments, these consist of a series of transparent, removable trays that are placed over the teeth and worn 20 hours per day. Over a period of six months to two years, the teeth are gradually straightened as you progress from one computer-designed tray to the next. Best of all, you can remove the trays completely to clean your teeth, and for important occasions.
Which one is right for you? It depends. While aligners have been successful in treating mild to moderate spacing issues, more difficult problems with the bite may require a more traditional form of braces. Also, there are a few health problems which might need to be attended to before orthodontic treatment is begun. The best way to learn about your options is to come in for a consultation. But remember: if you want a better smile, it's never too late.
If you would like more information about orthodontic choices, please contact us or schedule an appointment for a consultation. You can also learn more by reading the Dear Doctor magazine articles "Orthodontics For The Older Adult" and "Clear Orthodontic Aligners."
By Inland Oral Surgery
April 09, 2015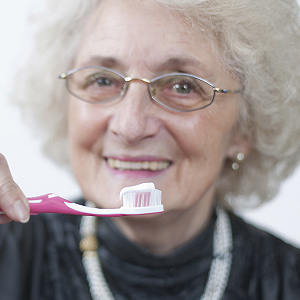 A focus on dental care in senior citizens is just as important as it is for children. Indeed, oral health in your later years can be a major factor in your quality of life.
For one, aging effects on other parts of the body can make dental care more challenging. Some hygiene tasks once performed easily become harder — arthritis, for example, or loss of muscle strength may make it difficult to hold a toothbrush or floss. In such cases, you may need to find new ways to make the task easier: a power toothbrush with a larger handle; pre-loaded floss holders or a water flosser; or adaptations to a manual brush to make it easier to hold, like attaching a tennis ball or bike handle.
Other age-related conditions — and their treatments — can negatively impact oral health. Less saliva production, which is a consequence of aging or certain drugs, increases the risk of tooth decay or periodontal (gum) disease. Older adults often develop gastric reflux problems that can introduce tooth enamel-eroding stomach acid into the mouth. And medications called bisphosphonates, often prescribed to treat osteoporosis, may interfere in rare cases with bone healing after tooth extraction or similar procedures.
Prior dental work can also prove challenging to treating dental disease. It becomes more difficult to preserve teeth threatened with decay if there are significant restorations or appliances to work around. Pain perception can also diminish with age, so that dental disease may not be noticed until later stages when significant damage has already occurred.
Oral care requires more attention as we grow older, or as we care for older family members. Your best defense against disease is to continue regular six-month visits with us. In addition to normal cleanings and checkups, we'll also screen for oral cancer (a more prevalent occurrence in older adults), review your prescriptions or other supplements and medications for any possible side effects to oral health, check the fit of any dentures or other restorations and evaluate the effectiveness of your hygiene.
While other age-related conditions may capture the majority of your attention, you shouldn't allow that to neglect your dental care. With your continued efforts, along with our support and your family's, you can continue to enjoy good oral health throughout your lifetime.
If you would like more information on dental care for senior adults, please contact us or schedule an appointment for a consultation.