Posts for: February, 2018
By Inland Oral Surgery
February 14, 2018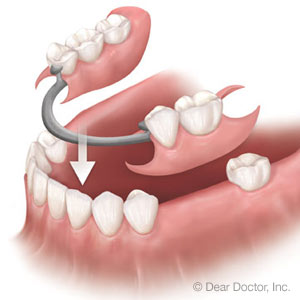 Modern dentistry offers several great ways to permanently replace missing teeth, including high-tech dental implants and traditional fixed bridgework. But sometimes, for one reason or another, it isn't possible to have these treatments done right away. If you need an aesthetic way to temporarily replace missing teeth, a flexible partial denture could be the answer you're looking for.
Certain kinds of removable partial dentures (RPDs) can be used as permanent tooth replacement systems, especially for people who aren't candidates for dental implants or fixed bridges. But in the past, if you needed a temporary tooth replacement, one of the few alternatives was the type of rigid RPD often called a "flipper." This consists of a firm, relatively thick acrylic base that supports one or more lifelike replacement teeth. It attaches to the "necks" of existing natural teeth via metal clasps, which gives it stability and strength.
However, the same rigidity and thickness that gives these rigid RPDs their durability can make them uncomfortable to wear, while the acrylic material they are made of is capable of staining or breaking. Over time, the RPDs are prone to coming loose — and they are also easy to flip in and out with the tongue, which gives them their nickname.
Flexible partial dentures, by contrast, are made of pliable polyamides (nylon-like plastics) that are thin, light and resistant to breakage. Instead of using metal wires to attach to the teeth, flexible RPDs are held securely in place by thin projections of their gum-colored bases, which fit tightly into the natural contours of the gumline. Their elasticity and light weight can make them more comfortable to wear. Plus, besides offering aesthetic replacements for missing teeth, their natural-looking bases can cover areas where gums have receded — making existing teeth look better as well.
All RPDs must be removed regularly for thorough cleaning — but it's especially important for flexible RPD wearers to practice excellent oral hygiene. That's because the projections that hold them in place can also trap food particles and bacteria, which can cause decay. And, like most dentures, RPDs should never be worn overnight. Yet with proper care, flexible RPDs offer an inexpensive and aesthetic way to temporarily replace missing teeth.
If you have questions about removable partial dentures, please contact us or schedule an appointment for a consultation.
By Inland Oral Surgery
February 06, 2018
Are you suffering from jaw pain? Dr. David Gailey in Spokane, WA, know just what to do!
TMJ:
The Temporomandibular joint (TMJ) connects to your lower jaw and to the skull in front of the ear. There are some facial muscles that control chewing also attached to your lower jaw.
Temporomandibular joint syndrome is a disorder accompanied by consistent pain in the area near your ear, jaw or muscles on the side of your face. You may also suffer from a clicking or popping sound and/or restricted jaw movement.
Causes of TMJ Disorder:
The TMJ is subject to various issues, such as:
Inflammation
Sore muscles
Strained tendons
Ligaments
Disk problems
Genes, age, and gender
Physical and psychological stress
Signs and Symptoms of TMJ Disorder
Clicking Sounds — If you're suffering from TMJ disorder, you may hear a clicking, popping sound coming from the TMJ when you open or close your mouth. This is usually caused by a shifting of the disk inside the joint. The clicking may be so loud, someone standing next to you may hear it.
Muscle Pain — You may feel pain in your cheeks, where the pairs of jaw-closing muscles are located. If you feel soreness and stiffness upon waking up in the morning, it may be related to clenching and/or grinding the teeth at night. A nightguard may help relieve that pressure, but be sure to speak with your Spokane doctor.
Joint Pain — Pain usually comes from one or both jaw joints and would be considered arthritis.
Relieving the Pain

Once your doctors have examined you, they can start designing a treatment plan. Here are some ways they may improve your diet or lifestyle:
A softer diet to reduce stress on the muscles and joints.
Ice and/or moist heat to relieve soreness and inflammation.
Gentle stretching exercises to avoid muscle spasms.
Medications and muscle relaxants for pain relief.
Dental restorations such as crowns and bridgework
Oral surgery
For more information, contact Dr. Gailey of Inland Oral Surgery in Spokane, WA, today!